When it comes to your deck, it is critical that when you choose products to apply to it, you are selecting the best product for your particular deck. The right finishing product can make or break your decking, which is why it is so important to get this decision right. There are a variety of things to consider in deck finishing products, and that's why we have put together this month's article – to demystify the selection process for you. When it comes to choosing decking products, we pride ourselves on being experts, and when you trust us with a treatment such as deck oiling or deck painting, we also have the expertise to apply it correctly. Keep reading to discover the process of choosing the right products for your deck, and to find out where to go for professional deck maintenance services like oiling, painting, or staining.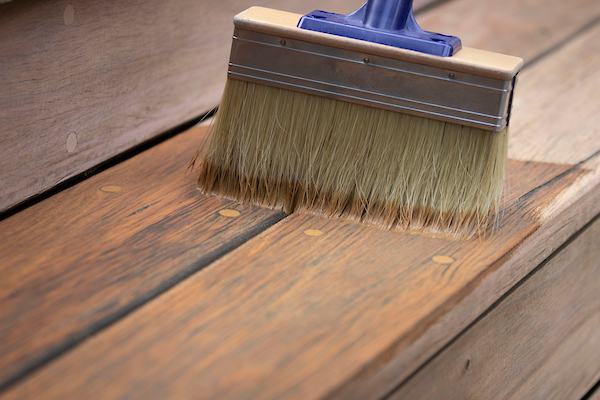 1: Assessing the Condition of Your Deck:
When it comes to selecting the right type of product for your deck, our first step will be to inspect your deck and to assess the condition of it. This careful inspection will help to determine the type of product that your deck may need, as well as the colour or finish options that you might have to choose from. If your deck is quite weathered, it may require oiling as this kind of product is capable of penetrating deep into the wood which provides nourishment and a rejuvenating effect. On the other hand, if your deck is currently painted, or is in extremely poor condition, then deck painting may be the option for you.
2: Taking the Aussie Climate into Account:
The next stage in the process requires a bigger-picture approach and requires us to consider the particular region your home is situated in and the accompanying climate. There are not many parts of Australia that feature mild weather. Rather, many places experience the weather extremes that are typical of our summers, from scorching heat to sudden downpours. These weather conditions can actually wreak havoc upon our decks, particularly if those decks are untreated. That's why we take into careful consideration your local climate and choose deck products with the appropriate UV protection and water-resistant qualities in order to protect your particular deck.
3: Consultation and Compromise:
Next up, we need to get an understanding of what you are hoping for from your decking treatment. We consult with you to find out if you are aiming for a natural end result, or if you are hoping for a more dramatic change in colour, for instance. Decking oils are nourishing deck products which are generally tinted slightly so that they can enhance and bring out the natural colour of your timber. On the other hand, deck paints are true paint – meaning that they are an opaque product which can totally transform the colour of your deck. Once we know the end result you are aiming for, we will be able to advise you on the right type of product for your deck.
4: Choosing the Right Decking Oil:
It is a fact in the industry that not all deck oils are created equal, and that's why we are happy to lend you our professional decking expertise in making the decision. Our selection process involves considering the timber your deck is made from, prior treatments using oil-based or water-based products, UV protection, and the penetrative qualities provided by the product. Tung oil, linseed oil, and other blends of oil that are designed for durability are among the great options for decking oils. In consultation with you, we will be able to recommend the best product for your deck, which in many cases, is a versatile, hard-wearing, and reliable water-based oil.
5: Choosing the Right Decking Paint:
The process of selecting a decking paint is similarly comprehensive. Acrylic or oil-based is always a top consideration, and can also depend on the type of products that you may have previously used on your deck. Additionally, selecting a product that is extremely durable under foot traffic is critical, and decking paint should also include anti-fungal properties to help combat mould and mildew. Finally, in terms of aesthetics, the desired colour must be taken into account also.
Do You Need Deck Oiling or Deck Painting Services?
If your deck is looking old, tired, and in need of some attention, then look no further than DeckSeal for all your deck maintenance needs. We pride ourselves on being the experts in decking maintenance, restoration, and treatment services, and we love assisting you with your decking projects. When you are in need of help with your deck, we would be thrilled to help you with our signature quality workmanship, and exceptional customer service.
Whether you need deck oiling, deck painting, sanding, staining, or complete deck restoration, give us a call at 1800 332 525, or fill out our online contact form and we will be happy to get back to you!