Deck Staining and Oiling Treatments  | Deck Painting Melbourne, Sydney, Gold Coast and Australia
Want your decking to look its best while staying protected? You need the professional touch DeckSeal provides.
The sun is shining, it's a beautiful day, and you and your family are making the very most of your decking. Great! But there's a problem. The elements, wear and tear, general use — all of this takes a toll on your decking.
So, what should you do? You don't want to just stop using your decking area, but you also don't want to damage the timber. There must be a solution.
Fortunately, there is. Here at DeckSeal, we are the experts when it comes to providing professional deck staining treatments at properties across Melbourne. The aim here is simple — to achieve beautiful aesthetics while securing a fully functional decking area that stays at its best for longer.
We go the 
extra mile for
our clients
We always use
the best of care when
treating your timber
We take the time
to assess what you
really need
We give you
the service your
deck truly deserves
Here's what you can expect from an expert staining service: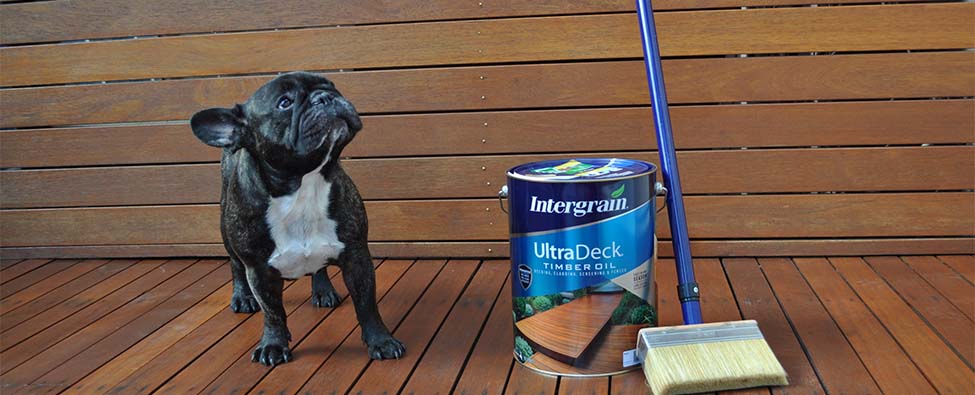 Reach out to our team for your free quote or read on to discover more about the application process..
Applying Deck Oil and Deck Stain
Applying deck stain or deck oil requires patience and care. A slow and steady process is a must if you are to get the best results with no streaks or marks.
We use a brush and applicator, with natural fibres that we believe provide the very best aesthetics. What's more, these fibres allow the materials to really work their way deep into the wood, ensuring the results last longer.
We start from either end of the board, coating the area and then using application tools to spread the stain and oil in long strokes. As the process is a careful one, only two to three boards can be stained and oiled at a time.
Keeping Your Deck Oil and Deck Stain Looking Its Best
We make sure to clean and prepare your boards before application to help your results last longer. We keep your deck looking well-maintained by reapplying the stain or oil when it is required.
Take a look at your deck when it is raining. Is the water being repelled and running off the timber? If so, the stain and oil are still doing their job and the deck just needs a clean. If the water is being absorbed, you may need to apply a fresh coat.
Looking for a professional assessment and expert deck staining and deck oiling services? Reach out to DeckSeal for a free quote.
Have a question about deck sealing, cleaning, restoration, or something else in Australia? The answer may be right here.
What deck restoration and preservation services do you provide?
We provide a wide range of different deck restoration and preservation services, including:
Deck cleaning

Deck sanding

Deck restoration

Deck maintenance
Deck washing
Deck painting
Deck staining
Deck repair
What areas does DeckSeal serve?
We have teams all over Victoria, teams in Gold Coast, Sunshine Coast and Brisbane, teams in Perth and teams in Manly, Newcastle and Byron Bay. And are currently training teams in other states of Australia. 
Wherever you are, you will be able to benefit from DeckSeal's expert services.
Do you also provide concrete preservation and cleaning services?
We certainly do. We provide treatment, cleaning and sealing for surfaces including concrete, paving and tiles.
Do you provide long-term deck maintenance services?
Yes, we offer a long-term auto pilot maintenance program or regular notifications when your decking or other surface needs maintaining.
What sort of deck treatments and materials do you use?
We have partnerships with many of the best deck treatment providers in the business. Head to our Treatments page to learn more.
Our
clients love us
Customer satisfaction is our primary objective, which is why so many of our jobs come from client referrals and repeat business.