Your deck is more than just a wooden structure in your backyard; it's a space for relaxation, family gatherings, and making memories. However, over time, even the sturdiest of decks show signs of wear and tear. The question then arises, "Can my deck be saved?" Let's dive into two real-life case studies to understand the potential deck restoration solutions or the need for a complete replacement.
The Significance of Deck Maintenance
Maintaining your deck regularly can greatly increase its lifespan. Deck maintenance includes regular cleaning, checking for damaged boards, and timely deck oiling to protect it from weather elements. By diligently following these practices, you ensure that your deck remains strong and visually appealing for years to come.
Case Study 1: The Deceptive Wear and Tear
Initial Impressions
Emma, a homeowner in the suburbs, was convinced her deck was beyond repair. With loose boards, faded colours, and visible cracks, she was almost sure she'd need a new one. Before making a decision, she approached DeckSeal for an expert opinion.
DeckSeal's Analysis
Upon close inspection, DeckSeal identified that most of the damage was superficial. Although some boards needed replacing, a majority of the deck was structurally sound.
Solution
With a complete deck restoration, DeckSeal replaced the damaged boards and gave the entire deck a thorough cleaning. The transformation was astonishing! Once the deck was sanded down, re-sealed, and undergone deck oiling, it looked brand new.
Outcome
Emma saved thousands of dollars by opting for restoration instead of a full replacement. She was ecstatic with the results and could once again enjoy her deck without worries.
Case Study 2: The Ill-Installed Deck
Initial Impressions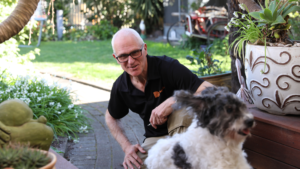 James contacted DeckSeal after noticing that his deck was sagging in certain areas. He thought a few repairs would do the trick. But when DeckSeal arrived, they suspected deeper issues.
DeckSeal's Analysis
DeckSeal's experts did a comprehensive inspection, including checking the joists and the structure underneath. They discovered that the deck was not installed correctly from the outset. The joists were improperly spaced, and there were signs of wood rot throughout the supporting structure.
Solution
Given the extensive damage and faulty installation, a complete deck replacement was the only viable option. DeckSeal coordinated with a reliable builder to dismantle the old deck and install a new one.
Outcome
James now has a sturdy, safe, and visually appealing deck. Once the construction was complete, DeckSeal ensured the final touch with deck oiling, sealing in the beauty and durability of the new structure.
The Final Verdict on Deck Restoration vs. Replacement
Whether you should restore or replace your deck depends on various factors. As showcased in the case studies, sometimes a deck restoration can breathe new life into an old deck, making it as good as new. In other scenarios, replacing becomes inevitable due to foundational issues.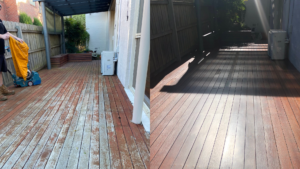 In any situation, it's always best to consult experts like DeckSeal. With a thorough check, they can guide you on the best course of action, ensuring safety and longevity.
Conclusion
The health of your deck, much like any other part of your home, is paramount. Regular deck maintenance, including timely deck oiling, can save you from bigger expenses in the long run. If you're ever in doubt about the state of your deck, remember Emma and James' stories. There's always a solution, whether it's a complete restoration or a new start. DeckSeal is there to guide and assist you every step of the way.
Contact DeckSeal today for your Free inspection.
**Please note the pictures in this article are not the pictures described in the Case Studies, all pictures were taken by the team on site visits & jobs.