Congratulations to Qui Truong and Sandra Hoang! You are the winners of our Hamper Competition! Your post was both heartfelt and creative which we loved!
The winning entry…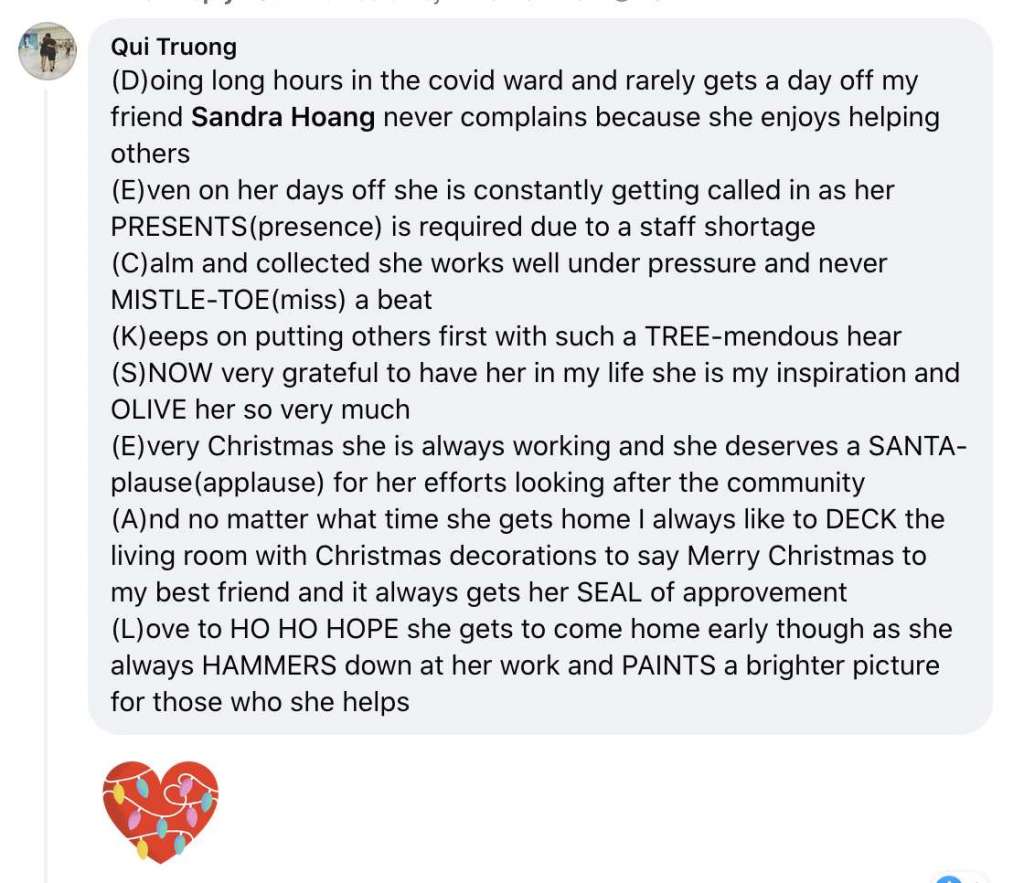 Every single one of our entrants was so deserving and we honestly wanted to give you all a hamper!
Unfortunately though, we had to pick one winner which wasn't easy with so many lovely comments!
Thanks everyone for following our page and letting us know about your wonderful deserving friend.
Here are some of the other entries…
Andrea Cole. Michelle Diamond You deserve this hamper for being a wonderful supportive friend. I love to share a laugh with you. How lovely would this be for us to share on our deck at sunset xo
Trish Cale Denise West You deserve this because it will bring a sparkle to your outdoor area when I come over to enjoy it 
Barbara Forshaw Simone Forshaw you deserve this lovely hamper as a treat just for you in appreciation of the time and care you give to rescued and surrendered domestic animals until they find their forever homes. You are also a lovely and caring daughter and step daughter.
Bekka Glover Aren't these the guys you did your deck Jenika Graze?? Beautiful! Yes please to the hamper – well deserved after 18 months of your work on the front line! 
Leann Tobias Deborah Gange you deserve this hamper for Christmas and being a great friend to me, you always put everyone else first, you have lost 3 important people in your life within a matter of months, the most important recently in which you are 
. I hope you win to bring some happiness in your life and something good for a change 
 2021 has not been a good year? 
Sue Cox However I think Julie Rovis deserves it, for being in agony, laid up in bed for a month, still mothering 3 kids, working from bed and coordinating an large AFL club…. and being an amazing friend & wife!! 
Linda Polazzon Dana Brandl my kind and loving sister who drives me to countless medical appointments. It's time to celebrate! Let's hope you score this Christmas bounty. Love you lots. 
Necia JohnstonI nominate Paul Cotton because you have worked so hard during this covid times, you deserve something special this year!
Jenika Graze Mark Warren Glover our deck is looking incredible after the amazing work from DeckSeal – so looking forward to enjoying it with you after a tough year as a community palliative care nurse.
Nat PhillyWinston Yek this holiday season pack would be so perfect for you in the lead up to the wedding. Snacks for the family and visitors coming to celebrate your special day…. Covid May have made the wedding plans tricky but snacks make everything better!!
Julie Rovis Sue Cox you absolutely deserve this stunning hamper, you have been a rock for our family whilst I have been so poorly with my back as well as being an amazing volunteer coach to our daughters netball team, an amazing friend and just a dam good woman! We are the lucky ones!
Dina Zaitman Wow! Amazing hamper. I nominate Tammy Cantoni to win this hamper because she's had a hard year and deserves something special for Christmas.
Katrina Young Kirsty Hurst New Year's Eve 
Joe SidFelicia Santoso you deserve this hamper for putting up with the pressure at work and looking after 2 kids during remote learning. Plus it's almost Christmas time for a celebration at your beautiful decking that was treated by DeckSeal
John Wise Darren Mckerrow you deserve it mate as you stuck by me when my business was on the brink during lockdown and thats what true mates do for each other during tough times and to receive this happer would be a small reward for you.
Michele Lumsden I nominate Lily Hughes A celebratory hamper to congratulate you on becoming a paramedic. We can enjoy on our newly maintained DeckSeal deck 
Roslyn Hely Very happy with deckseal. Would like to share the hamper with a friend who does so much work with the homeless and refugees and also our very caring crossing lady, Kathy, who goes above and beyond her role and is about to start treatment for cancer.
Glenn Whittletonvince coleiro you have been stuck in lock on your own for so long you deserve some christmas cheer.
Robert Relph Sonia Tammaro your deck is looking awesome after DeckSeal rejuvenated it.
George Malouf Ramon Martin mate I'm tagging you in the hope that you win this Xmas hamper. I know you have a big dick (sorry a big deck) out back that needs sealing regularly. Good luck mate 
 May Santa 
 be kind to you 
Carol Saunders Cherrelynne Saunders you totally deserve this hamper. You are a front line worker who looks after our community. I watch the hours you work and you never complain, and when you are called in on your days off- You never moan, you just get on with it. don't know how you do it. On top of all that you look after our mum and dad and keep them young. I appreciate everything you do. You're my sister and my hero. We are all so lucky to have you . This hamper would put a massive smile on your face – you totally deserve it
Gaylene Mcdiven Kirsty Mcdiven , you deserve a treat after all you have been through working in the trave industry during covid
Steve Lagos Antonietta Borrelli you deserve a deck seal for Xmas!!
Janet Black Vanessa Webb – Independent Stampin'Up!® Demonstrator deserves this hamper because she has kept her small business going and cared for three kids during the last two years of the pandemic – one of whom is doing their HSC this year!
Enrique Lopez Rhiannon Jones 
 A reward for all your hard work and been given the opportunity to manage a store 
Rod Mc Donald Amber Benci you deserve to win this as you work so hard and home schooling the kids at the same time no one deserves a gift more than you always putting others first
It's been a challenging time and it's great to recognise all the amazing efforts people have made.

TO OUR WINNERS – enjoy your lovely treats!
Brian and Danielle xx