All exterior timber elements and structures require ongoing maintenance due to weather extremities, wear and tear, and timber type.
In many instances, some decks may need a full deck restoration, whilst others might just need cleaning and maintenance. New decks will require a good clean, followed by 2-3 applications of either a deck stain, paint, or oil.
Decks need protection from rain, the sun's UV rays, and wear and tear.
So, let's discuss the difference between, deck painting, staining, and oiling.
Deck Painting
Painting generally refers to applying solid exterior deck paint to the surface of the deck or timber. Unlike stains and oils, the deck paint completely covers the natural grain of the timber and provides an opaque finish. Paint protects against UV rays and moisture, but dark colours can scratch easily and feel hot to the touch.
Deck Staining
Deck Staining involves applying a semi-transparent or solid-coloured stain to the deck or timber. The deck stains enhance the natural look of the timber, whilst also providing good protection from the rain and the sun.
Stains are also available in many colours and have a higher level of pigments than oils. People predominantly choose stains to change the colour of the deck boards.
Most deck stains are available in water-based and oil-based finishes. Oil-based stain preserves wood and offers UV protection, while water-based stains only offer UV protection.
Deck Oiling
This refers to water-based and oil-based oils. Deck oiling is the most common form of protection for timber. It protects the wood from UV exposure, whilst enhancing the natural grain and look of the timber.
Deck oils give a natural finish and stop timber from cracking and cupping by going into the wood. Deck oils usually don't change timber color, but can darken it a bit with more coats. Some oils offer different color tones.
Deck oils protect the wood, prevent mould and mildew, and have a matte, semi-gloss, or glossy finishes. Water-based oils wash up with water, whilst oil-based oils require turps to wash up.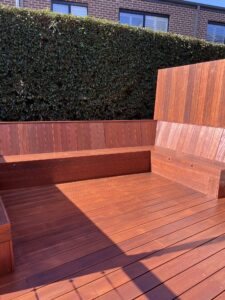 It really is a personal choice as to whether you oil, stain or paint your deck and exterior timber surfaces. Other factors are the type of finish you are after, the type of wood if you want to see the natural timber grain, and if you want to change the colour.
The 3 options all require maintenance and will all protect your deck and timber from UV rays and rain. Having some form of protection for the timber is the key! Maintenance is recommended anywhere from 6-12 months to ensure adequate protection.
DeckSeal carryout deck and timber restoration and preservation, deck maintenance, and can give you options regarding products depending on your individual requirements. Check out our Instagram and Facebook pages to see the many projects we have completed for our happy clients.
We are industry favourites, so if you need deck restoration services then contact DeckSeal.
We love to do the work, so you can sit back and enjoy your outdoor area. So call us at 1800 332 525, or fill out our online contact form?