Are you tired of looking at your weathered pergola or fence?
Is that bench seat not quite as pristine as it was when first bought? Don't worry, DeckSeal has got you covered! Our team specialises in restoring and maintaining outdoor timber structu
res, from decks to pergolas, privacy screens to benches, letterboxes and fences.
These structures not only add value and beauty to any outdoor space, however, due to regular use and exposure to the elements, all these structures can experience wear and tear which threatens their longevity. That's why DeckSeal offers a comprehensive range of restoration and maintenance services to ensure your timber structure looks its best for years to come.
When undertaking the restoration of any timber structure, our team utilises specialist equipment such as pressure washers, detergents, sanders and sealants to remove dirt and grime effectively and to address stains and mildews quickly to prevent damage.  We understand the unique maintenance needs of each type of structure, so we use products designed specifically for this purpose,
Hardwood Furniture Maintenance
Hardwood furniture is generally more durable than softwoods and requires less maintenance due to its higher levels of natural oils. To maintain hardwood furniture, it should be washed annually with a cleaning solution and a brush, or alternatively covered in heavy-duty waterproof covers when needed. Teak protector can also be applied for desired finishes but this may remove the natural patina.
Softwood Furniture Maintenance
Softwood furniture such as pine requires more maintenance; wood stain or paint containing preservative should be reapplied on a yearly basis, paying extra attention to areas that are exposed or prone to moisture build-up. Additionally, there is a wide selection of wood-staining products available in various shades.
For pergolas or other timber structures we may suggest treatments such as staining painting or repair works tailored to those specific requirements.
At DeckSeal we are committed to helping restore and maintain your outdoor space so that it retains its beauty and functionality over time.
Contact us today for a free onsite inspection so we can help bring back that touch of class lost due to wear and tear over time!
P.S. The DeckSeal team also offers ongoing maintenance plans tailored to your specific needs should you require any additional support down the line.
BEFORE and AFTER!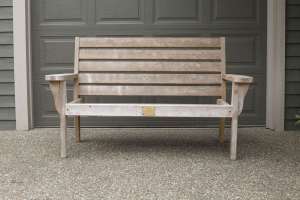 (This photo is just an example of what your bench could look like with a bit of love and attention. This is not work done by DeckSeal)