Embarking on a new business venture can be a challenging endeavour, but for Adi, the chance to leverage his extensive background in technology, sales, and service to initiate and run his own family business offered the ideal blend of adaptability and security he desired. After thorough investigation, Adi decided on DeckSeal, a proudly Australian owned and operated franchise, as his next big step.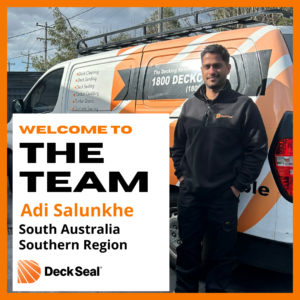 A significant aspect that attracted Adi to DeckSeal was the clear and open communication from the franchisor, encompassing their business strategy, ongoing support, and comprehensive training. Adi was particularly enthused about the prospect of pioneering an exclusive vast territory in South Australia, encompassing a rich mix of suburbs, with the potential to grow this territory as he sees fit.
As the inaugural franchisee for DeckSeal in South Australia, Adi is eagerly anticipating the opportunity to deliver premier deck restoration services to homeowners across the state.
With a solid foundation in technology and a prosperous career in sales & service, Adi has always been customer-centric. His transition to DeckSeal was driven by his vision of witnessing satisfied customers with rejuvenated outdoor spaces.
What excites Adi the most is the autonomy of working in a dynamic setting and the prospect of shaping his future as a business owner. Every day presents a new challenge and opportunity. He's ecstatic to be a member of the DeckSeal community and is committed to ensuring his customers in South Australia receive the best deck restoration services in SA.
We warmly welcome Adi to the DeckSeal family.
Adi will be servicing Southern region of South Australia from the bayside suburbs of Glenelg and the beautiful Adelaide Hills areas including Mt Barker, Nairne and more.