When Damian built his deck 10 years ago, it was the crown jewel of his home. A serene space for barbecues, summer parties, and tranquil mornings with a cup of coffee. Over the years, however, life got in the way, and the deck did not receive the tender loving care it so deserved.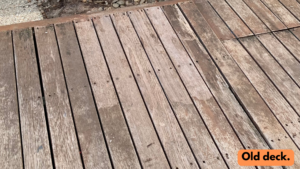 Like many homeowners, Damian believed that once the deck was up, it would take care of itself. Little did he realise that the seasons, elements, and regular wear and tear were silently taking a toll on his once-pristine platform.
Fast forward a decade, and the deck's planks began to wobble. It's once vibrant colour now resembled a weathered gray, with splinters becoming a frequent unwanted guest. Recognising the decline, Damian called DeckSeal for what he hoped would be a simple restoration quote.
Our DeckSeal team arrived and, upon inspection, delivered the sombre news: the deck was beyond restoration. Years of neglect had allowed rot to set in, weakening the foundation and making it unsafe. Instead of a straightforward restoration, Damian was now faced with the more costly solution of a full deck replacement.
Damian's story serves as a poignant reminder to homeowners everywhere about the cost of neglect. A deck, like any other part of a home, requires regular maintenance to remain safe, functional, and aesthetically pleasing. By skipping the routine check-ups, minor repairs, and annual sealant applications, what could have been small, manageable expenses can quickly escalate into major financial and logistical challenges.
If you value your deck, treat it with the care it deserves. Regular attention not only preserves its beauty but can also save you from the unexpected costs and headaches that come with having to replace it altogether. Don't let your deck become another cautionary tale like Damian's.
Recognising Damian's distress, DeckSeal stepped in not just as deck restorers but as advocates for him. We liaised with the right professionals to provide Damien with a competitive quote for a brand-new deck. Our team's commitment went beyond restoration; it was about ensuring Damien received the best possible service from start to finish.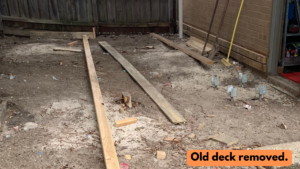 Once the new deck is complete, DeckSeal won't just leave it at that. We will seal it expertly to give it that initial protection it needs, ensuring it stands resilient against the elements. But the support won't stop there. Damian will be set on one of our tailored maintenance plans, ensuring regular check-ups and care to keep his deck looking as pristine as the day it was installed.
For all the Damians out there, your deck's longevity is a partnership. It starts with you recognising the need for care and ends with experts like DeckSeal ensuring it remains in top shape. If you suspect your deck may be showing signs of wear and tear or if it's been a while since its last check-up, don't wait. Call DeckSeal today and arrange a Free inspection.
Don't let neglect take over your deck. Call DeckSeal first. We provide honest appraisals, thorough inspections, and the expertise your deck deserves. Just as we guided Damian through his deck journey, we're here to do the same for you. Secure the future of your deck; give it the DeckSeal touch.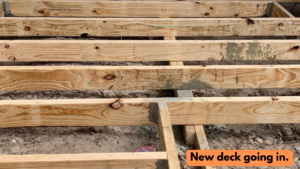 **Disclaimer:** Please note that only our teams in Gold Coast and Newcastle can directly handle deck building as they are qualified carpenters. For all other franchise locations, deck building tasks are outsourced to our preferred specialist partners who have been vetted for their expertise and quality of work. Always ensuring that you receive the best service, regardless of your location.